Welcome to Talay Bua Daeng
The red lotus sea Talay Bua Daeng is an amazing place to visit, at its best around sunrise when all the flowers are open and the first sunrays of the day add even more colour to the spectacular views.
The Red Lotus Sea is a charm of Udon Thani, or "Talay Bua Daeng" in Thai. Called "Nong-Han or Han" from the original swamp that was created by nature. Currently a Red Lotus Sea located at Kumphawapi district of Udon Thani province and can be seen as you drive on Mittraphap Road between Udon Thani and Khon Kaen. Han is swamp where consist of aquatic plants, birds, and fish. In the winter Han is spectacular with red lotus flowers to the millions which took us to appreciate the beauty. This area has two types of lotus "Ubon Chart" or Bua Saey and "Pratum Chart" Bua Luang in each category or sub-division has also seen many red lotus in Nong Han is one of Ubon Chart-called Bua Sattabun or Ratta Ubon is Buasaey kind of night blooming flowers in red, pink is also a subtle scent. The bloom of Red Lotus depending on the weather. Where little sunlight, cool red lotus will bloom in the late afternoon. In addition there is also a scenic boat ride. It is a unique experience. Despite the limited time to visit (around 45 minutes - one hour, depending on type of vessel we choose) and if you look superficially views around the same time. But if we concentrated look. We will see the diversity of the lotus that grows saw herons, egrets, and fish in the lake, and see the lifestyle of fishermen and farmers are still floating out rice and fish harvesters and there is a local restaurant as well such as salad, soup, and toast fish waiting for tourist services.
How to get to
Talay Bua Daeng
The famous red lotus lake Talay Bua Daeng lies 50 km. south of Udon Thani in north east Thailand.
There are a few transport options to get here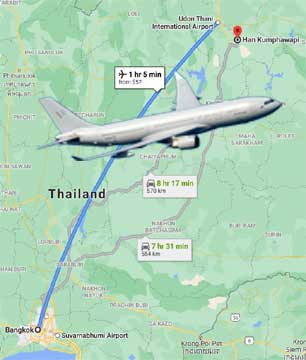 Domestic Flights
Fly to Udon Thani
Several airlines fly daily to Udon Thani from Bangkok and other cities.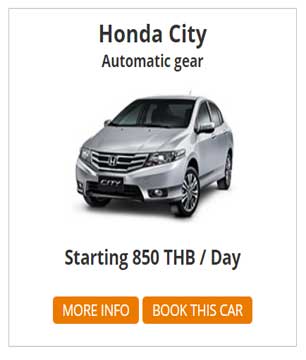 Car Hire
Rent your own car
Rent a car in Udon Thani and drive to Talay Bua Daeng, Google Maps will help you find your way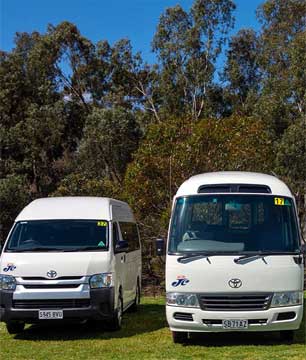 Road Transport
Take a taxi or bus
From Udon Thani airport or city you can grab a taxi, or hop on a day tour bus.
Boat Tours on
Talay Bua Daeng
Boats are available for hire on Talay Bua Daeng to show you around the red lotus lake at sunrise.
The lotus flower at night and close up during the day so the best time to see them is very early in the morning.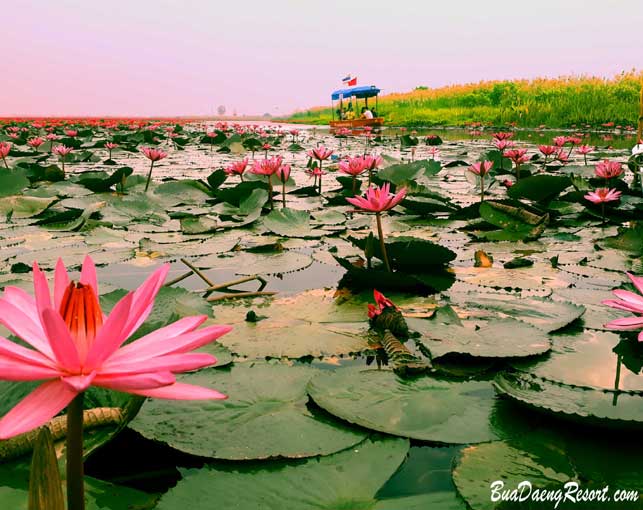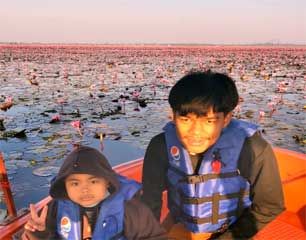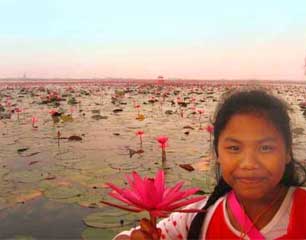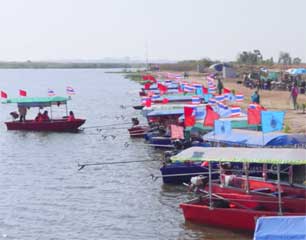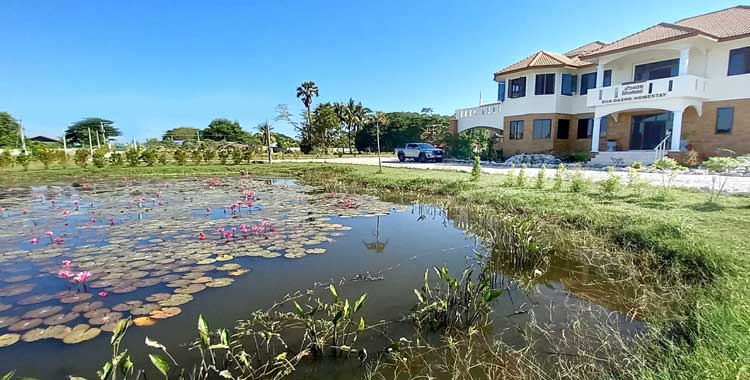 Accommodation at Talay Bua Daeng
Don't do a quick day trip from Udon Thani, stay at the lake!
For many years tourists have stayed in the city of Udon Thani and got up in the dead of night to do the bus trip to the red lotus sea in time for the sunrise to get on their boat tours, and after the tour the bus would take them back to the city.
But this is changing with the building of the Bua Daeng Resort, located near the lotus lake. The opening date is planned for July 2021 and this small resort will offer air-conditioned rooms, camping, and a rooftop cafe overlooking their own lotus lake.
This will be the perfect place to spend a few days, for couples with romantic sunset views over the lotus lake, and for families with a swimming pool and many animals to keep the children entertained.